Top B2B service providers
asap developers earned an impressive position among the Top B2B service providers in San Francisco at UpCity. The popular marketplace has placed asap developers on its list of best business-to-business service providers due to their expert work in web and app development.
About asap developers
asap has been offering agile web and mobile development services for San Francisco Bay Area companies since 2008. With a team of almost 20 hard-working members, they are experienced in designing and developing outstanding web and mobile apps.
The San Francisco company has successfully developed over 100 products, MVPs and platforms, and their mission is to make their clients' ideas a reality by passionately building innovative and quality products. Their success lies in seeing their clients as strategic partners by offering a comprehensive service focused on their success.
Their client list includes companies such as The Yoga Collective, Toyota, PE4H and United Nations.

asap's services
Web app development: asap offers full-stack development with responsive design using the most sought after frameworks and languages such as Angular and Python. On the business end, they also help clients define their MVP and refine their business model. They focus on scalable web apps that can be adapted to new market demands in the future.
Mobile app development: asap developers designs, develops, tests and provides support for both native (iOS and Android) and cross-platform mobile apps developed with frameworks such as Ionic and React Native. They take a comprehensive approach that includes UI/UX design, back-end development, scalability, and app publishing.
UX/UI design: asap developers understands that keeping users engaged is the key to any successful app, and user interface and user experience design are a crucial part of it. Therefore, they strive to create wonderful and intuitive user experiences that are handcrafted for each client's product by taking care of each and every detail.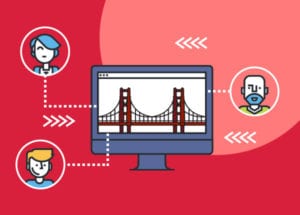 About UpCity and top B2B service providers
Founded in 2019, UpCity started as an SEO focused business, later adding other marketing services. In 2017, it launched its online marketplace focused on B2B providers. Although it was originally aimed at the marketing field, its comprehensive directory currently includes every field, from HR to IT service providers.
The marketplace receives around 225,000 visits every month and includes over 33,000 providers in more than 600 North American cities. The company has a strong focus on review authentication to make sure the businesses they promote actually have a high "Recommendability Rating". This rating is based on profile completion, third party reviews, and website speed and experience, among other factors. UpCity prides itself on being trustworthy, accountable, collaborative and transparent.