7 Mobile App Awards
While there are many ways to get recognition when it comes to mobile apps, winning an award definitely has many benefits. Not only is it satisfying given that it lets you know you are doing a good job and that your work is getting noticed by the industry, but it also provides you with exposure, allows you to keep growing, and shows users why they should choose you over other apps. Given that there are numerous and varied mobile app awards available, it shouldn't be too hard to find one that is the right fit for your app.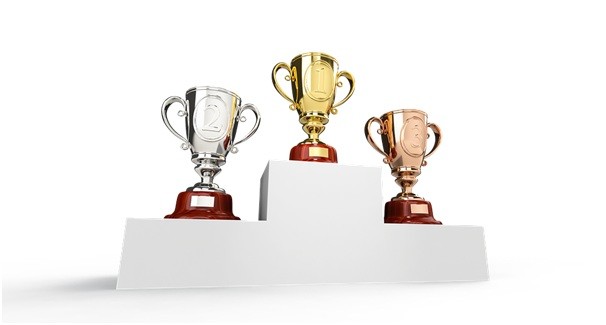 Furthermore, it is important to keep up with the competition by checking out previous winners and add elements to your dos and don'ts list. That is why today we bring you a selection of mobile app awards so you can take a look at what is out there.
This popular competition has several categories and the great added benefit that some of them are monthly or by season, so you don't have to wait a whole year if you missed the deadline for the yearly ones. The monthly categories include Best New Mobile App and Best Mobile App Design and are currently accepting nominees for November. The yearly ones -which are open until December 31st- are Best Business and Productivity App of 2018 and Best Mobile App of 2018. Past categories also include Best Educational App, Best Social / Lifestyle App, and Best Mobile App Interface. You can check out some of our picks from this year's winners here.
Entries for this contest have a cost ($75 for a Silver Package and $125 for a Platinum one) that includes various additional benefits to promote and showcase your app. Three winners are chosen for each contest (Silver, Gold, and Platinum) and the submission process is quite straight-forward. If for some reason you decide you don't really want to participate, you have the alternative to just become a featured developer to give an extra boost to your app's exposure.
This yearly contest started out in 1996 and is a bit more restrictive as it's only available to iOS apps. However, it has no entry cost, which can be a deciding factor for some businesses.
The awards ceremony is held in California as part of the Apple Worldwide Developers Conference around June each year. In the past, there were more clear-cut categories -such as Most Elegant, Best Apple Technology Adoption or Best Developer Tool-, but over the last few years apps have been chosen under no specific category.
This year's winners include iTranslate Converse from Austria -a speech translation app-, Bandimal from Finland -a music composer aimed at children-, and Oddmar -an action game from Turkey.
These awards also came to be in 1996 and they are presented by the International Academy of Digital Arts and Sciences. The Webbys -often referred to as "the Oscars of the Internet"- are a bit broader, focusing on the internet in general and covering seven media types, including video, advertising, and podcasts, among others. Each category includes a Webby Award and a People's Voice, the latter of which turns to the public to select the winner with millions of participants all around the globe. The Mobile Sites & Apps category includes a myriad of options including Best Practices, Best Use of Augmented Reality, Best User Experience, and Technical Achievement.
This year, you are eligible for final entry until December 14th -as we've just missed early entry- by paying a fee ranging from $155 to $395 -or up to $595 in other categories. You can find more information on eligibility and guidelines here. Your product will be judged on a variety of criteria including content, structure and navigation, functionality, and innovation. Winners for the 2018 edition included Smartify, Pandora and Quest to Legoland.
Google Play Awards
Here we have the counterpart to the Apple Design Awards which only accepts submissions from Android-based apps. Past and present categories include Best Accessibility Experience, Standout Indie, and Best Breakthrough Hit, as well as the classic Best Game and Best App ones.
Unfortunately, there is not much information available on the upcoming 2019 mobile app awards yet, but here are some of its 2018 winners to give you a frame of reference:
Standout Well-Being App: Simple Habit Meditation. This meditation app is aimed at busy people who only have a few minutes to take care of themselves. It seeks to help them reduce stress, sleep better, and breathe easier, among other things.
Best Social Impact: Khan Academy. This learning app for all ages includes interactive exercises, videos, and articles on various subjects.
Best Breakthrough Hit: Empires & Puzzles. A game that combines role-playing with classic match-three puzzles.
Standout Startup: Canva. A fast-growing graphic design and photo editor you are probably familiar with.
Focusing solely on mobile games, IMGA holds various events throughout the year with the 2019 award ceremony taking place next March in San Francisco. The awards were created in 2004 by Maarten Noyons and have multiplied their entries ten-fold since then. There are currently 14 categories, ranging from Best Quickplay Game and Guilty Pleasure to Excellence in Storytelling.
In order to qualify, your game must have been released within the competing year (so, 2018 for the upcoming ceremony), but they also accept unpublished projects that may come out later on. You can take a look at more specific requirements here. The current deadline for entries is December 31st, but there are no clear references to fees on their site.
Past winners include Pokemon Go, Clash Royale, Heads Up, and Crossy Road.
MEA refer to themselves as "the Oscars of technology" and have expanded throughout the US and Europe. They include 27 awards in several categories: Product, Content Creation, Services, Distribution, Leadership, Entertainment, Business, and Premier Awards.
Products have to be launched within a specific year period in order to apply, and submission rates for 2018 were $475, with a $75 late fee that applies to those submissions made after September 15th. Unfortunately, submissions are already closed for this year, but make sure to add it to your calendar for 2019.
Judging criteria includes innovation, ease of use, and proven success in the market; check out the entry rules and guidelines here. A few of the 2017 winners were NextVR (Excellence in Virtual Reality), WBTVD (Excellence for Delivery Platform), and IBM Watson Media (Excellence in Artificial Intelligence).
You might associate Cannes with the renowned film festival, but it has so much more to offer. This global event revolves around creative marketing communications and, just like the Webbys, does not include only Mobile but other categories such as Design, Social & Influencer, and Creative Data, among many others. Mobile Lions fall within the Communication field and, although it might be a more specific or niche award, we thought it was worth adding it.
Cannes Mobile Lions focus more specifically on creativity driven by mobile devices. This year's Grand Prix winner was Brazil's Reclame Aqui, a corruption detector that helps you file claims about companies, cities and public services.
Currently, there is not much information for the next edition of the awards as the upcoming categories and rules for entering will be published on December 3rd of this year and entries will open in mid-January, while winners will be announced in mid-June.
Conclusion
As you can see, there is a wide array of Mobile App Awards that recognize mobile apps in various categories. You would do well to research them in order to find one that applies to your app. They also vary regarding cost -with some having no admission cost whatsoever- and how much time you would need to invest in order to submit your project. In many cases, with just a little effort and money you can definitely boost your app.