With CEO Pablo at the Helm: asap developers Is Being Steered in the Right Direction When It Comes to Digitization
Rich in providing development and consulting services, 'asap developers' incepted in 2008 and is based in San Francisco, Los Angeles, and Montevideo. Asap is a thriving mobile app development company catering to clients with awestruck mobile apps. The react native development company comprises of highly trained and professional software engineers. With a mission to convert the ideas of customers into minimum viable products, the engineers and software developers strive to attain excellence. Patrons don't stop touting their services; hence, well-known brands like UNDP, Toyota, PE4H, zInspector, and Alooma are seen in their client list. GoodFirms research team scheduled an interview with Pablo Giampedraglia, the co-founder and CEO of 'asap developers.'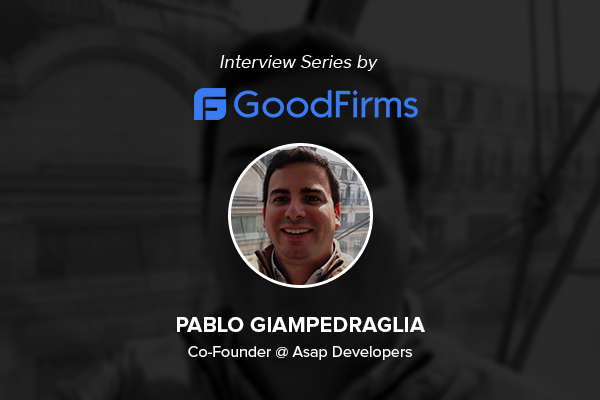 View 'asap developers' GoodFirms' profile –
During the asap developers interview, the CEO not only briefed the GoodFirms' interviewer about its thriving services, but he also stated the mission and the idea behind the inception of the company. Starting with, Pablo mentions, "We love working with startups and entrepreneurs that want to create amazing products." Moreover, as a CEO, he describes his roles & responsibilities by saying – "I'm the Co-founder and CEO of the company and my mission is to create a great team and foster innovation within our business. Moreover, I like to meet all of our consumers and assist them in succeeding in their projects and business."
When asked about the most flourishing services, Pablo says – "Asap is known to deliver success to the clients who partner them. For mobile app development, they accommodate native platforms like Android and iOS and even frameworks like Ionic and React native. Taking challenges with open arms, they perform beyond expectations." The in-house team of app developers advises customers to enhance their development maneuverings, subjugate procedural churn, and magnify business solutions or ecosystems. Thus, by catering to habitues' with cost-efficient & full-suite of mobile app services and solutions, 'asap developers' gets dubbed as the top app developers in Uruguay  and San Francisco at GoodFirms.
The below-displayed review and scorecard are confirming the quality apps infused at 'asap developers.'
Review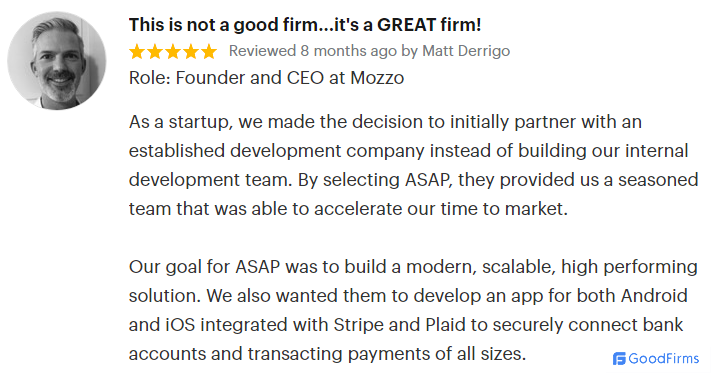 Scorecard

One of the fortes of 'asap developers' is to provide web solutions to global clients. The professional web developers transform the ideas into amazing web solutions. The group helps the clients to turn the concept into reality, defining an MVP, and remodel their businesses as per the current situation of their companies. The unit executes front-end and back-end as well as the UI and UX using responsive design along with the latest frameworks such as Angular and Python. This method enables the team to create apps such that it immediately grabs the attention of the users, making it reach a higher crowd.
The below-displayed review proves the quality of web services proffered to the clients by the developers at GoodFirms.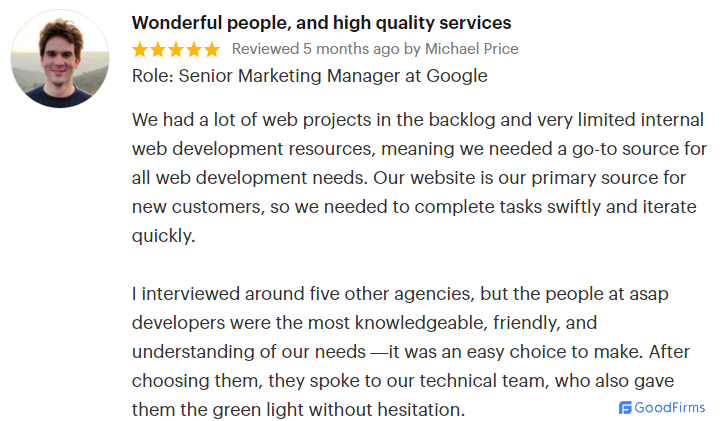 With a collection of positive reviews in its kitty and by delivering awe-struck apps and sites, the firm will soon make its mark among the leading web development companies in the USA (San Francisco and Los Angeles) at GoodFirms.
Reading the in-brief idea about this react native development company and its working standards shared by Pablo, one can also have a glimpse of the detailed interview at GoodFirms.
About GoodFirms and asap developers interview
Washington, D.C. based GoodFirms is a maverick B2B research and reviews firm that aligns its efforts in finding the top web designing and mobile app development companies delivering unparalleled services to its clients. GoodFirms' extensive research process ranks the companies, boosts their online reputation and helps service seekers pick the right technology partner that meets their business needs.

About the Author
Anna Stark is presently working as a Content Writer with GoodFirms – Washington D.C. based B2B Research Company, which bridges the gap between service seekers and service providers. Anna's current role lingers to shape every company's performance and key attributes into words. She firmly believes in the magic of words and equips new strategies that work, always in with ideas, something new to carve, and something original to decorate the firm's identity.