UX/UI trends
In previous articles, we've covered the difference between user experience (UX) and user interface (UI) as well as the importance of UX design. As technology keeps rapidly moving forward, designers must keep up to date with the changes it brings about. In this article, we'd like to peek into the future and share the UX/UI trends we believe you should watch out for in 2020.
1. Complex and purposeful animation
While in the past complex animations meant longer load times, today that's not a major concern, particularly with the rise of 5G. Moreover, if a picture is worth a thousand words, an animation could be worth that much more. That being said, we're not talking about just any high-quality animation, but one that tells a story and engages users. If you manage to design an animation that meets this criterion, it will help users contextualize actions and processes providing them with a better experience.
2. Artistic and animated illustrations
The era of stock images is ending and illustrations are taking over. A high-quality illustration adds a human touch to the user experience, making it feel authentic, and, as a consequence, helping add value to your product. Unique graphics capture people's attention and make you stand out from the competition. To keep in line with our previous UX/UI trends, you can also add motion to illustrations to help bring your products to life and improve engagement. Again, 5G is of great help with animated illustrations in mobile and web apps as you are no longer restricted by the limitations of 4G.

3. Split-screen and asymmetrical layouts
Over the last few years, asymmetry has been growing in popularity and 2020 might be the year it really takes off. This goes extremely well with the rise in split-screen design as these two UX/UI trends add character and personality to your product, while also leaving a lot of room for creativity. We're not going to lie, it does take some work to find the right balance, particularly for mobile apps, but, once you do, the possibilities are endless.
4. Less contrasting gradients
The less is more philosophy is making its way to gradients, with a turn to less contrasting, low-key colors. This is a progressing trend, with 2019 having already taken a step back from the bright shades of 2018.
5. Breaking typography rules
Text is an important part of design and should not be taken lightly. Handwritten fonts have been gaining popularity as they make products more approachable. Plus, breaking typography rules (for example, by using odd spacing and sizing) turns text into an art element instead of a merely informational one, adding to this effect. As long as you maintain readability, feel free to play with fonts and join this trend.
6. Empty space
Some products choose overcrowded designs, which leads to users not being able to concentrate properly in any one thing. This is because empty space is important when you want a specific element to get all the spotlight. There are, of course, varying degrees of empty space you can use depending on what you wish to accomplish, but whenever you want to make a specific object or idea stand out, this is the way to go. Just make sure you are focusing on the right object or idea.
7. Personalization
Mass production is a thing of the past and, over the last few years, we have seen personalization progressively grow in all aspects of life. The same is true for apps; users are increasingly demanding a personalized approach with a lot of companies focusing on niche markets. Mobile and web apps that deliver a custom experience that keeps in mind users' particular interests and needs are more likely to be successful, and this should definitely be part of your UX and UI process.
8. No loaders
With 5G technology coming into play, loading times have gotten shorter and shorter, and loaders have become unnecessary. However, if there is a specific section of your product that takes a little longer to load, we recommend using creative and original animations to help you keep users engaged.
9. 3D graphics
3D graphics have evolved significantly over the last decade and can be found anywhere from movies to videogames and ads. Mobile and web technology also grows at a fast pace and is now ready to take on 3D graphics. If you wish to create and integrate 3D graphics into mobile and web apps you will, of course, require specific skills and a lot of hard work, but it will most likely be worth your effort. 3D makes for increased interaction and engagement and adds a greater sense of realism.
10. Storytelling
Any good user experience design includes storytelling. It plays a pivotal role in any successful app as it helps you create a positive relationship between your brand and your users, as well as making it a lot more memorable. Storytelling is a powerful marketing tool that will continue to grow in 2020.

11. Accessible design
There are millions of people around the globe with permanent and temporary disabilities. However, the mobile app industry has been slow to accommodate these users. Adopting an inclusive mindset when developing your product means you will be able to develop an app that is convenient for all users. From gesture recognition technologies and voice input to accessible audio or video elements, and high-contrast color combinations, technology has come a long way in giving us the tools we need to make our apps accessible and we should definitely work towards applying them.
12. Dark themes
Over the last few years, many apps have included a "dark mode" to their design which has been gaining a lot of popularity with users. You should, of course, make sure to complement them with bright accent elements and the appropriate typography to ensure a readable design. In any case, just like many large companies, dark themes are something you should consider when designing your app.
13. Virtual and augmented reality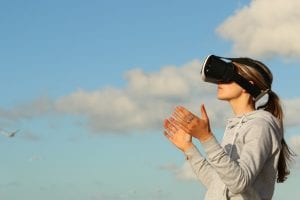 VR and AR have had a good few years. Virtual reality has made a lot of progress, particularly in the gaming industry, while the leading tech companies are currently investing considerable amounts into augmented reality development. Facebook is delving deep into VR, while Apple has released ARKit 2, an AR toolkit. A good example of implementation is IKEA's app, which lets customers see how a piece of furniture will fit into their home before buying it. User interface designers should certainly dive into these fields.

Final thoughts on UX/UI trends
As you can see, some UX/UI trends have been in the making for quite some time, while others are giving a fresh look to our mobile and web apps, particularly with the help of 5G. We hope you are as excited as we are to take on the challenges 2020 will bring for UI and UX design.